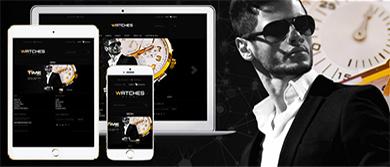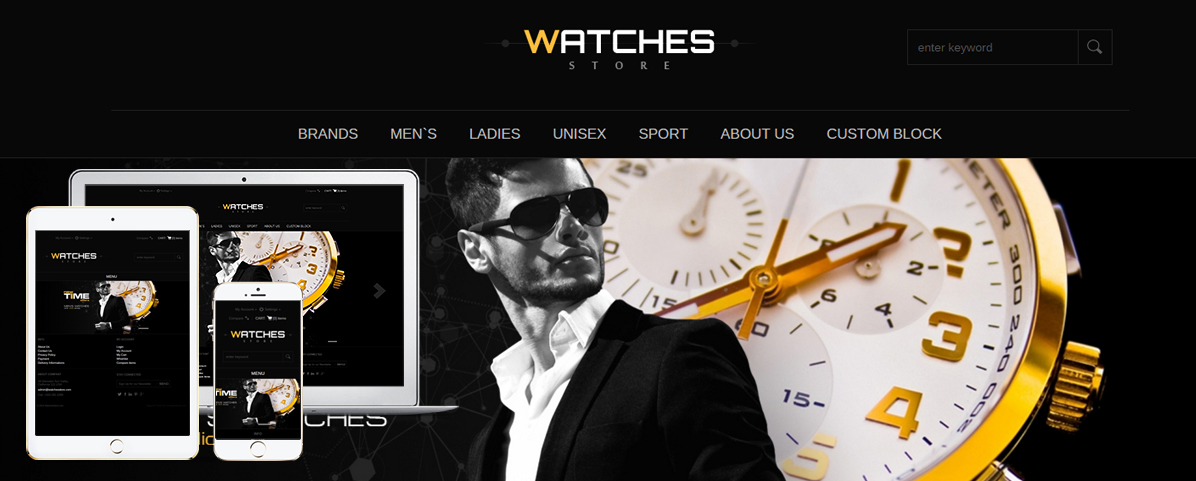 We proudly present Watch2, a new responsive magento theme that is no less spectacular than a diamond or a beautiful pearl shining brightly through the dark. This theme is a great match for Jewellery Store, Watches, Accessories, Fashion, Perfumes, Beauty Shop etc. and comes as the best solution for business owners who like this pattern.
It's a premium black theme which we added to our exclusive theme collection.
This theme makes a big difference by its user-friendly design: colors like white, yellow, grey, red, look great in contrast with a clean black background and leaves a deep impression on everyone who sees it for the first time. Your customers will love it only for the simple fact that is irresistible to stay too much apart and will find enormous pleasure while browsing.
The Process
Our team wanted to create something unique and everlasting. Dark web designs are popular and have an elegant and creative appeal when you handle it professionally.
To find the perfect balance between colors is not an easy job for a designer, especially when black is involved as main color and we consider that was the biggest challenge. We are glad that we succeeded!
Live Demo
Have a close look here and judge for yourself.
Key Features
This theme is designed with clean black in background in perfect combination with color palette;
Once the homepage appears, a fantastic slideshow will produce various stunning effects;
Watch 2 is built on a modern platform with advanced options like Ajax Suite, Ajax Filter, Full Screen Zoom … and is fully customizable;
It is easy to control and make changes on website through Templatestudio admin settings;
Watch2 is a responsive magento theme with cross-browsers compatibility and meet coding standards like W3C Validator;
In terms of speed, this theme is optimized for fast loading on Google Speed Tool, increasing your chances to obtain higher position in Google ranks;
Make your website and your products more visible to your search engine listings with Google Rich Snippets and consolidate you SEO campaign;
For full list of features and extensions of Watch2 and other themes, follow this link.
Overall, it is fair to say Watch2 is an excellent choice for a profitable e-commerce website if you want to distinguish yourself from the competition. It will reach new customers, boost your business sales, and promote worldwide with this impressive outlook.