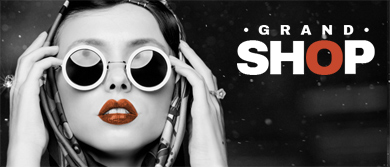 Templatestudio has released its new generic responsive template, Grandshop. This theme is perfect for generic e-commerce websites like Supper Market, Shopping Mall or any specific store such as Smartphones & Mobile Accessories, Fashion Store, Beauty Shop, Home Appliances, Kitchen Tools and Gadgets, Furniture & Décor…
It's a new premium theme which we added to our exclusive theme collection.
Grandshop is a great choice for a magento multipurpose store if you have great expectations in terms of design, functionalities, promoting your products online and making your business – a successful one.
The Process
We don't have enough words to describe our product, but to make it clean, modern and to attract public attention, we put great efforts to analyze the demands and trends in our marketplace. Before creating something special, we always question our work principles: quality, competitive vision, meaningful simplicity and our hunger for perfection. This theme is like a precious child that we raised with a professional care.
Live Demo
Have a close look here
There are many reasons if you are still unsure in making this theme yours; however, we want only to highlight here the most important features.
Key Features
This theme is designed with white in background, a versatile slider with twenty nine cinematic effects on home page, clean and easy customizable layout;
Grandshop is a responsive magento theme which was built with the help of the most popular framework- boostrap;
Grandshop is optimized for fast loading with performance over 80/100 on Google Speed Tool, has zero errors on W3C Validator and is bug-free;
It is fully optimized for SEO, including Google Rich Snippets, which make your products be on top on google search page results;
This theme is fully protected against undesired electronical spamming, by enabling admin captcha for user area;
Let your customers visualize the image's product in the smallest details with Elevate Zoom Module and Full screen zoom option;
For full list of features and extensions of Grandshop and other themes, follow this link.
Theme Support
If you require quality support or theme customization, we are eager to answer any of your questions within 48 hours. Please leave a feedback here.
Let your passion in promoting your business on a bigger scale become reality with the help of our high expertise in magento and success will follow you everywhere: more customers, more sales, more reviews...