What is Layered Navigation?
Of course, you want the customers browsing through your site to find the products that interest them in the fastest possible way. We all know, when a customer is confronted with a category containing 60 products spread across multiple pages, most customers simply leave the site when they cannot find what they need on the first page. Remember Google-ing. How many of you are ever desperate enough to go through the second or third page when you don't find something on the first? Magento CE enables you to provide customers with the option to find the products that they want by making a selection from a variety of filters, such as price, manufacturer, or any other aspect of the products. Layered navigation information is shown on category listing pages while searching for products. Show your customers what they want and you will raise conversions!
To set and configure the new price layered navigation algorithm: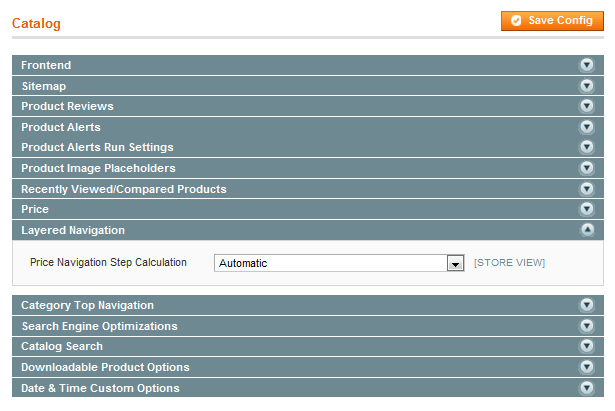 Log in to the Magento Admin Panel.
Navigate to System >Configuration > CATALOG > Catalog.
In the Current Configuration Scope in the upper-left corner of the page select the desired store view.
Expand the Layered Navigation field set. In the Display Product Count field, decide whether the number of products which fall into a price range will be displayed.
In the Price Navigation Step Calculation field select Automatic (equalize product counts). Additional options appear.
In the Display Price Interval as One Price field, decide what will be the system behavior if all products which fall into a certain price range have the same price. Select Yes if you want to display a single price (not the range finite values).
In the Interval Division Limit field, specify the threshold for a number of products within a price range after which the range cannot be further split. The default value is 9.
To save the changes click Save Config.